Fascias, Soffits and Guttering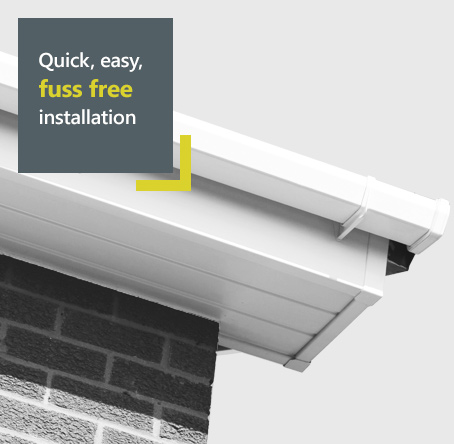 To remove the hassle of constantly repairing roof areas, Pearl Trade Window Centre offer quality uPVC fascias, soffits and other roofline solutions for trade. With lasting durability, the worry of installers or homeowners having to climb up ladders to fix roofline is removed, a particular hassle if buildings are particularly high or difficult to reach.
Maintain consistent style with roofline from Pearl Trade Window Centre
Although small details, roofline details such as soffits and fascias can ruin the appearance of a building if rotten, eroded and generally not maintained effectively. By choosing roofline solutions from Pearl Trade Window Centre, you can offer your customers maintenance free choices to match the style of their existing property.
All of our uPVC fascias, soffits and gutters are available in bespoke colours, making it easy for you to offer customers a tailor-made roofline that is consistent throughout and matches the rest of the property. We can also offer guttering, cladding and dry verge cap solutions, creating a quality trade supply for individual roof pieces or entire roofline systems.
Keep up with demand
Homeowners today are always seeking the most cost effective way to maintain rooflines. They are also aware of the abilities of good quality fascias and soffits. To make sure you can appeal to even the most discerning of customers, choose roofline solutions from Pearl Frame Trade Centre.
We fabricate our roofline systems in-house, ensuring colour can be matched across our range and quality is consistent from start to finish. We guarantee that our roofline solutions will last for years without discolouring or corroding, making our trade supply the ideal choice if you want to guarantee quality products for the end user.
To make the installation process even simpler for you, we can supply or fascias and soffits via our trade counter in Bradford or via UK wide delivery.